JOINT NEWS RELEASE
Master Builders Solutions® and Climate Earth™ partner to bring instant EPDs to ready-mix producers
The custom Master Builders Solutions EPD Generator is available now
Construction is being redefined by sustainability and Master Builders Solutions is responding by partnering with Climate Earth™ to offer Master Builders Solutions® EPDs; a custom, on-demand EPD solution for concrete ready-mix producers, powered by Climate Earth's leading EPD Generator™ technology.
Master Builders Solutions offers concrete ready-mix producers instant EPDs for any concrete mixture, any time.  The solution enables concrete ready-mix producers to provide verified, bid-ready EPDs which transparently communicate the measurement of the carbon-reducing capabilities of admixtures, such as Master X-Seed® strength-enhancing admixtures.The patented technology of Master X-Seed permits a reduction in the total cement content of a given concrete mixture while maintaining compressive strength equivalent to that of reference concrete.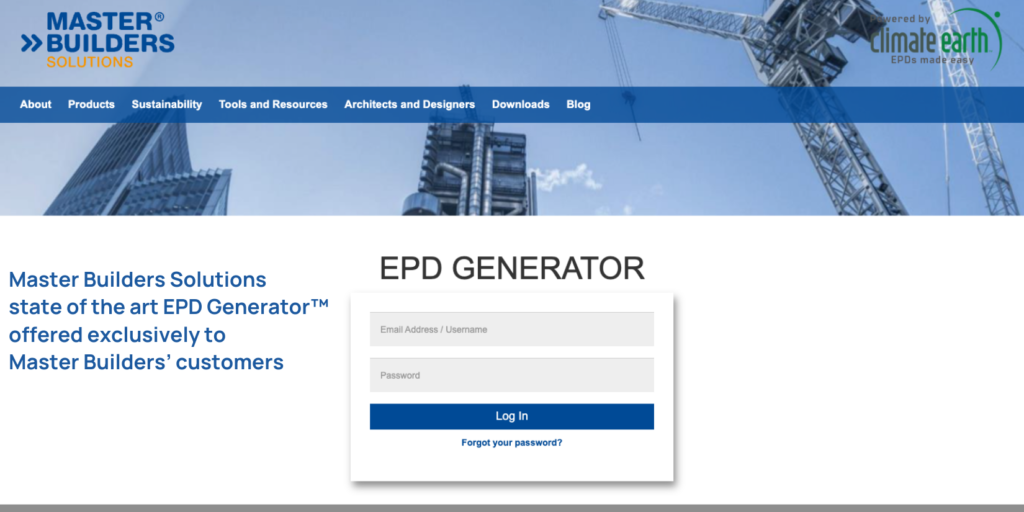 "Through the use of the EPD Generation software and our partnership with Climate Earth, concrete ready-mix producers can easily and quickly calculate the global warming    potential (GWP) of their mix designs. This helps them to optimize their mixtures to reduce the carbon footprint and meet the low-embodied carbon goals of today's designers, owners, and governments."

Phil Matisak
Product Manager, Master Builders Solutions
"We are incredibly pleased to be partnering with Master Builders Solutions to help their customers document the carbon reductions they can achieve in designing low carbon concrete mixtures using Master Builders Solutions products and technologies. Now, with the custom Master Builder Solutions EPD Generator, they can instantly measure and bid the carbon  benefits."

Chris Erickson
President & CEO, Climate Earth
Learn more about how your ready-mix concrete company can more easily communicate to architects, engineers and contractors about your achievements in low carbon concrete by using Master Builders Solutions' EPDs.
For more information, contact: 
Jennifer Hamilton, Marketing Communications Manager, Master Builders Solutions  at 1+(216) 312-6255 jennifer.hamilton@masterbuilders.com
About Master Builders Solutions:
Master Builders Solutions creates technologies for the construction industry inspiring people to build better. We are active in 36 countries and operate 35 production sites with over 1,600 employees. We develop, produce, and market high-quality chemical admixtures, cement additives, underground technologies, and construction systems to master the challenges of today and tomorrow. For more information visit: www.master-builders-solutions.com/en-us
Jules Conde, Marketing Manager, Climate Earth at 1+(415) 529-3653
jules@climateearth.com 
About Climate Earth:  
Climate Earth is the first and only global provider of on-demand, digital EPDs and business intelligence tools for the concrete industry. Climate Earth's mission is to increase transparency and help concrete producers accelerate product innovation for low carbon concrete with on-demand EPDs and advanced digital tools that measure, analyze, and project environmental impacts.  Founded in 2008 and based in Richmond, California, Climate Earth systems have automated EPD creation for over 900 ready mix, block and cement plants worldwide and have generated nearly 60,000 third party verified EPDs. For more information visit: www.climateearth.com